A TOUGH FORKLIFT AT A GREAT PRICE
Jitney Value Forklift LPG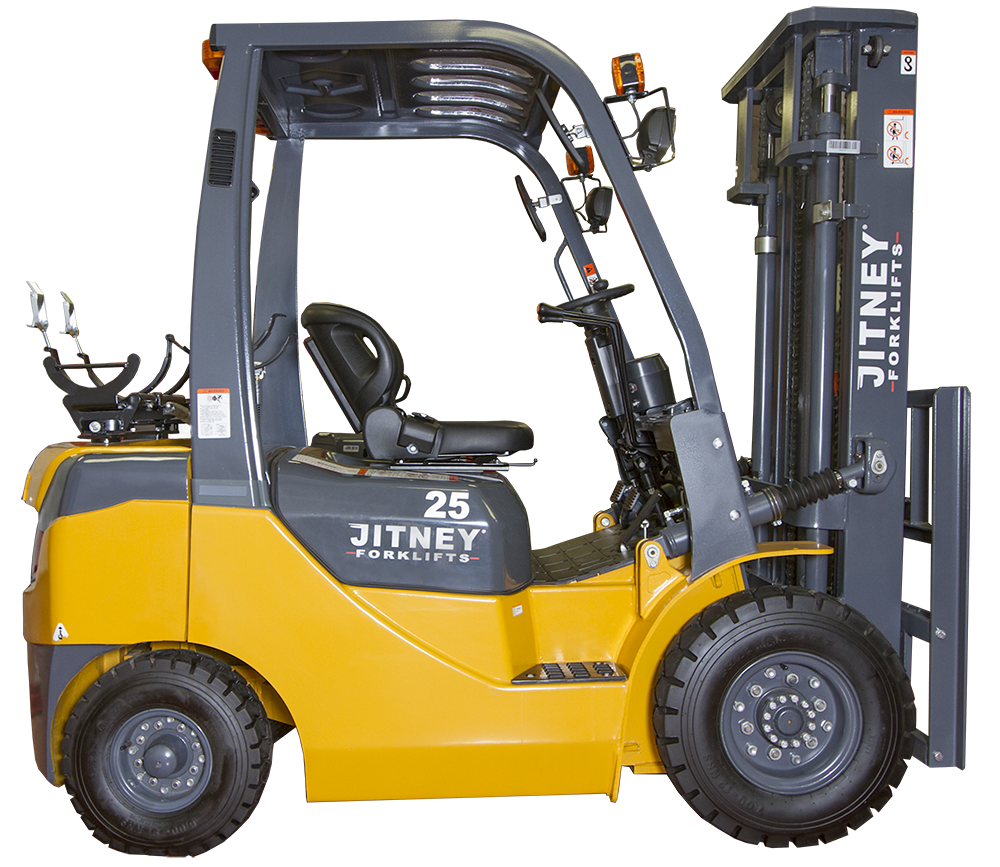 This is a no non-sense 5000 lb, no frills, get the job done Forklift!
Jitney Economy LPG Diesel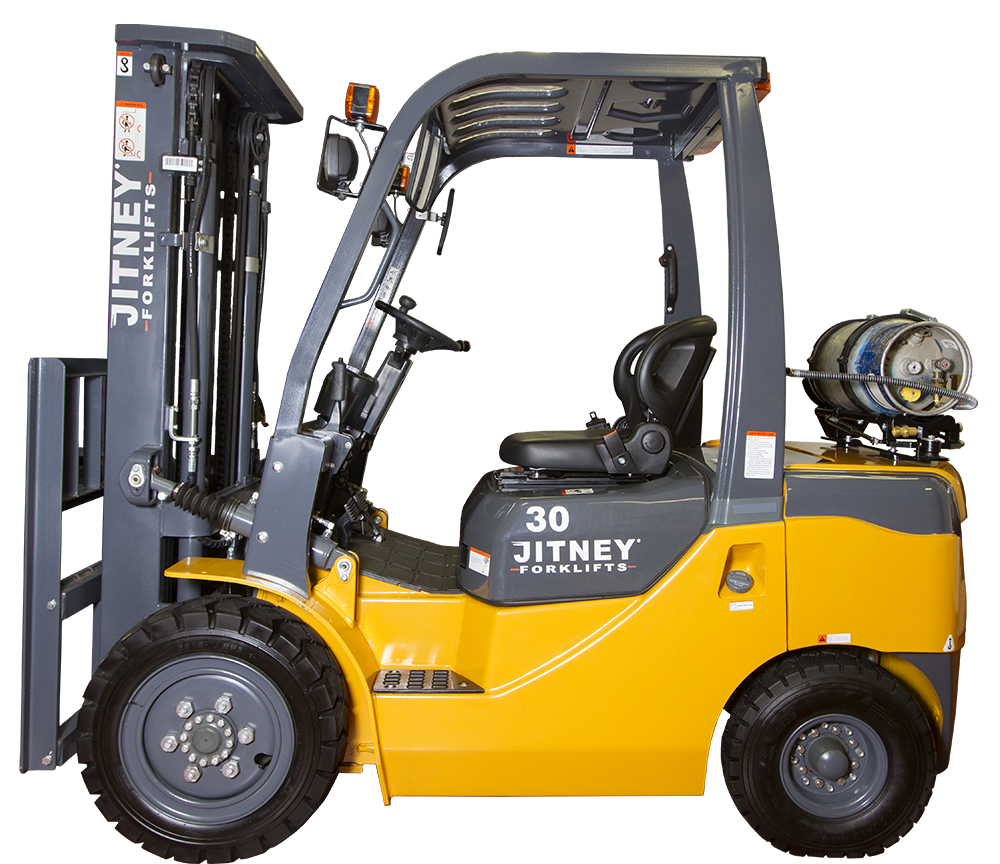 Here are 4 hard working forklifts in 5000 lb or 6000 lb capacities with either LPG or Diesel power.
Warehouse Handling Equipment – Walkie
Ecconolift warehouse equipment; built to move your goods around effortlessly.
Warehouse Handling Equipment – Ride On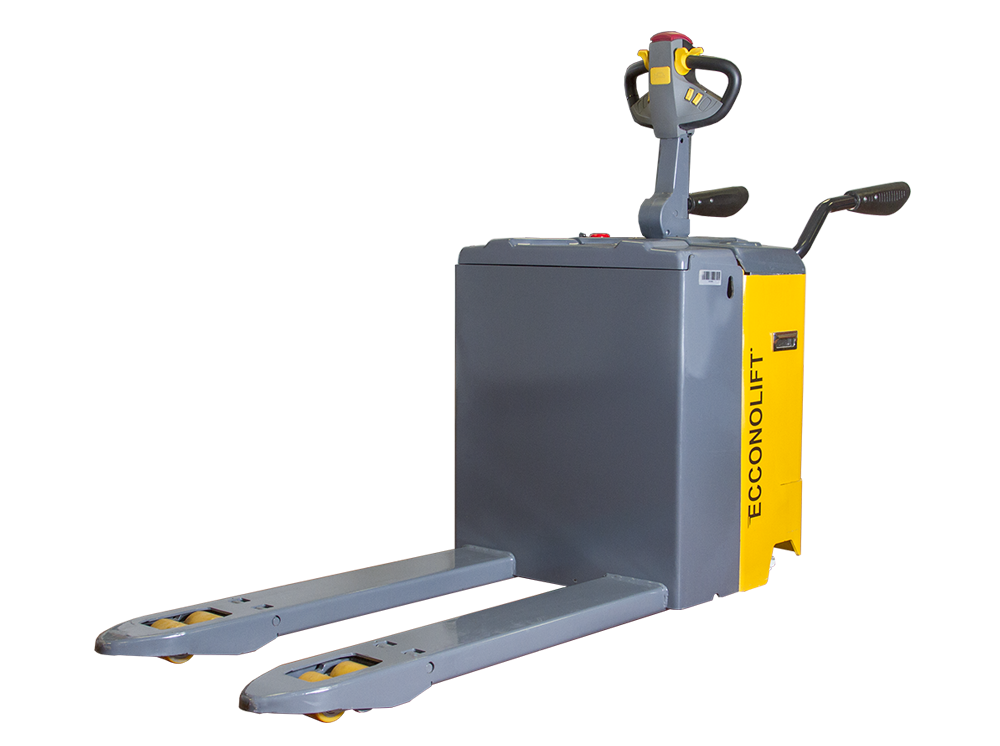 Ecconolift warehouse equipment; making it easier on your body, and your pocketbook!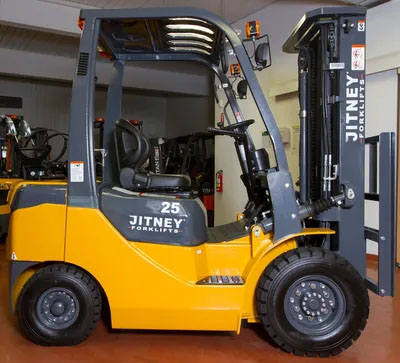 Options for the Economy models are:
Solid Pneumatic Tires          
Side Shift
Features that both the Value & Economy Jitney's have:
Comprehensive

 

1-Year or 2000-Hour Warranty*
Heavy Duty Overhead Guard
4 Core Aluminum Radiator
Eaton Yale Steering
Gates Hoses
Swing Out & Swing Down Propane Bracket
Rear Backup Handle with integrated Horn
Rubber Boots on the Tilt Cylinders
A No Nonsense Forklift!
If you want a hard working, no frills forklift, buy a Jitney!
Jitney 5000 lb Value forklift
The Jitney JTG25V has a 2.1 L Nissan industrial LPG / Gas engine, a 2 stage mast with 167″ lift height, Air Tires,  and either 42″ or 48″ forks.
Jitney 5000 – 6000 lb Economy Series Forklift
These tough Economy model Jitney's are either powered by a Nissan 2.5 L dual fuel (LPG / Gas) industrial engine (JTG25 – JTG30), or a 1.9 L Kohler Diesel
(JTD25 – JTD30).  They have a three stage mast with a 191″ lift height, either 42″ or 48″ forks, and Air Tires.
Electric Pallet Jacks
Our Walkies and Ride On pallet jacks help get your jobs done faster, easier and safer!
The Electric Walkie has a 3300 lb lift capacity, an 8″ lift height, built in charger, turtle function for those precise movements, and an emergency belly stop!  (Wish they had those on hockey sticks).
The Electric Ride On helps you move heavy loads (up to 4400 lbs) further & easier.  It has the same features as the walkie, but you can lift more and walk less!
Do you want MORE Choices, MORE Options?
A 5-YEAR or 6000-HOUR WARRANTY?
Then click on the TITAN FORKLIFTS® link below.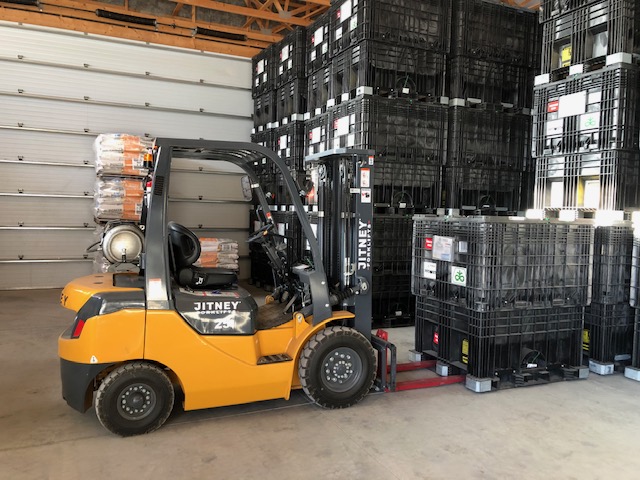 Jitney Forklifts® and it's big brother Titan Forklifts®, were founded based on desire to build a better forklift for both forklift drivers, and forklift mechanics!
In 2014 Jitney Forklifts® and Titan Forklifts® were born. They are engineered and designed in South Western Ontario; sourcing the best parts from around the world and then have them assembled into one tough, reliable, quality machine!  Being a young company Jitney and Titan needed to stand out from its competitors. To do this we designed and added features that are industry firsts such as:  boots on the tilt cylinders,  swing out–swing down LPG bracket, and a protection plate on the lower mast (to shield the hydraulic hoses from damage) to name a few.  These may seem like small additions, but they keep the machine and driver from unwanted repairs and downtime. 
 Jitney Forklifts® and Titan Forklifts® started sales in Southwestern Ontario and have sold and shipped across Canada.  The reason we are growing is not only because of our unique products (see the features above), it's the people that believe in these products!
This site is protected by reCAPTCHA and the Google Privacy Policy and Terms of Service apply.
Better yet, see us in person!
Call and we'll direct you to a dealer near you!
Interested in becoming a Dealer?
Call Neil at 519.351.9501 x 104
JITNEY FORKLIFTS
670 Irwin Street, Chatham-Kent, Ontario, Canada  N7M 5J5
519-351-9501 x105  844-938-4826